This winter, I travelled to Cambridge, MA to co-run a two week design lab course out of Nuvu with highschoolers. This post focuses on the second week of the studio. For the overview of the first week of the studio, please click here.  For an overview of NuVu, please click here. The two weeks at the NuVu studio closed with electronically blossoming flowers and augmented reality videos overlayed on to real time objects. It was hard to believe it had all pulled together so rapidly. The headmaster of the Beaver School, which requires NuVu studio courses as part of its curriculum, along with other experts in the field, were all present at the event.
The workshop, despite all planning, and the seemingly long hours of 9-3 PM, unfolded at a rapid pace requiring constant reworking of the day's game plan at the beginning and middle of each day. The students' engagement moved through periods of listening, periods of making, and the hardest part of all, periods of drawing on their own insight and creativity. The necessity of having a vision to guide one's work became apparent once the task of buckling down and getting to work commenced and the questions began–what should I do? what should I do next?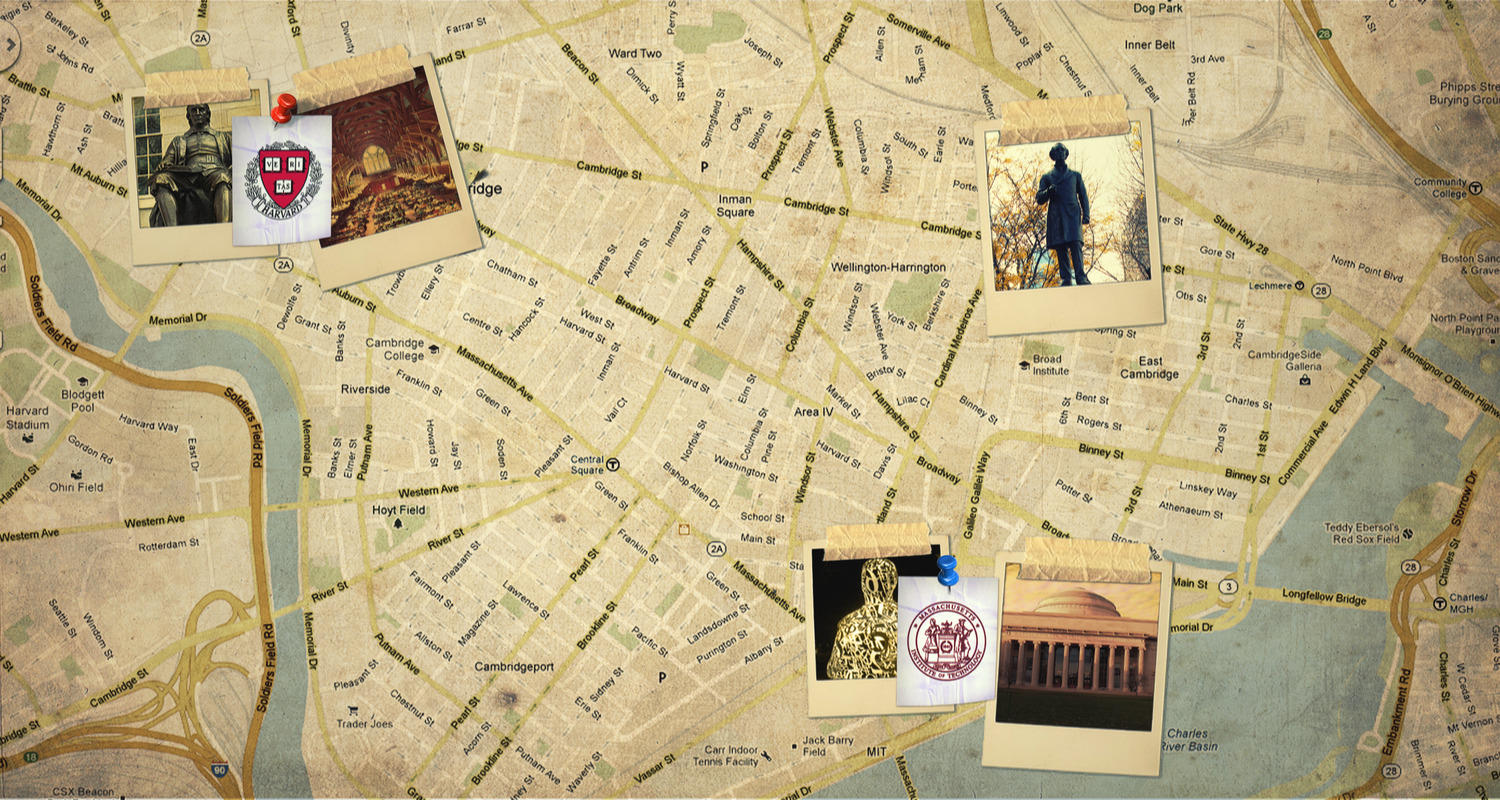 In anticipation of this, the workshop was designed to begin top heavy on reading, reflective writing on the multi-layered experience of being, walking and living in a city and ways of mapping and portraying that experience. The workshop pushed the students to pick a theme to focus their city explorations–the theme could be as broad as the narrative of one's memory through space to as specific as quiet places in Central Square. The student's blog posts became a wonderful way of tracking their musing that cumulated in their end of studio project–a collaged map and augmented reality videos overlayed on city sites using the iphone and ipad app Aurasma. The second week was a week of intensive self directed work. The students first storyboarded and then created videos. These videos were then overlayed over the real life object using aurasma. Aurasma has a wonderful Ted talk, which can be viewed here, that gives a sense of how this app works and what its implications are for school.
The activity and energy of the students while doing this work was quite thrilling. It was clear that for some the self directed project based work was easier and more effortless and for others harder and less clear. The studio model clearly taps into other forms of learning and knowledge creation.
I have continued over the weeks since then to reflect on the studio model as one that is greatly important for the future. It has led me to some different readings and to look for the support of the idea of studio based learning in other sectors.
The new TED book, Tell Them I Built This: Transforming Schools, Communities, and Lives with Design-Based Education, by Emily Pilloton explores the power of project based learning and construction paired with creativity in high schools.
The TED blog describes:
"Through the eyes of her students, Pilloton tells the story of the group's hopes, failures and triumphs. According to Pilloton, we can dramatically revamp vocational education and build the change we wish to see in the world. And she should know: ultimately her students were given the key to the city by their mayor for initiating, designing, and building three public chicken coops and a 2000-square-foot public farmer's market structure. In Tell Them I Built This, Pilloton offers tools for building change in communities, tips for turning a vision into meaningful work, and clear and inspiring directions on how to get it done. Tell Them I Built This dramatically shows how creativity, critical thinking, citizenship and dirt-under-your-fingernails construction can radically transform both high school education and the local community where the students live."
The book seems to wonderfully capture the necessity of letting student's make something as part of their educational experience. It gives them a sense of what it means to do something beginning to end. It also allows them to draw on their own ideas and imagination and create something tangible. Lastly, it requires the students to work in teams and communicate effectively to bring plans into fruition.
An article that came out recently in the New York Times, highlights why the project based, studio education could be particularly good for boys education:
"Aviation High School, and students there spend roughly half the day disassembling engines, fiddling with planes, etc. They seem to get very good results, and their website indicates that graduates go on to everything from immediate jobs to the military to average colleges to MIT, Brown, and the like. The specialized focus seems very effective at engaging students."
The idea of rethinking classrooms to address different kinds of interest, abilities and levels of self control is compelling. The mission of Aviation High school not only connects to the rethinkED team's work but also is part of a growing trend.  Obama in his commencement speech states states:
"Let's also make sure that a high school diploma puts our kids on a path to a good job. Right now, countries like Germany focus on graduating their high school students with the equivalent of a technical degree from one of our community colleges, so that they're ready for a job. At schools like P-Tech in Brooklyn, a collaboration between New York Public Schools, the City University of New York, and IBM, students will graduate with a high school diploma and an associate degree in computers or engineering."
It seems there is a push to educate for applicable skills that require collaboration and creation. I look forward to seeing how the rethinkED team can continue to rethink the classroom and incorporate these outcomes and, when also hold onto to the merits of solitude and individual work–a topic for an upcoming post.